Sagan Coat is a trademark name for Kon's TiO2 photocatalyst coating solution and techniques of various coatings.
We provide a very high quality and reliable coating system to customers.
We have a three-day training program of Sagan Coating system.
During the training,we instruct customers how to use air-spray gun,its' maintenance and actual coating techniques to various substrates.
We issue a certificate to participants after completed the course.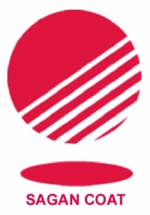 We have a technical TiO2 photocatalyst Convention once a year in Saga Prefecture.
Normally we invite one or two guest speakers from universities whose profession is phototechnology.
In overseas country,we had a first international technical meeting in Bangkok last March,inviting our distributors from Hong Kong,Thailand,Singapore Australia,USA and Japan.
We have permission to use one of the patents from National Institute of Advanced Industrial Science and Technology(AIST),Saga Prefecture's and TOTO's.
Our Sagan Coat coating solutions are produced based on these patents and some of these are avaialble to overseas countries.
Japan Photocatalyst Center obtained ISO 9001 and 14001 in 2004.
In order to supply very stable high quality solutions to customers,we manage the production quality control throughly before shipping.