Aqueous type titanium dioxide photocatalyst coating solution developed by Saga Prefecture.
Ceramic Research Lab are quite different from ordinary agent-type TiO2 solutions.
The production method and dispertion technique of anatase were invented by Dr.Ichinose of the research lab.
Saga Prefecture obtained the Patent in January 1999.Peroxide titanium photocatalyst coating solutions are now acknowledged as the best quality products in the world.
Japan Photocatalyst Center produces seven kinds titanium dioxide coating solutions.
Neutrality liquid with strong adhesiveness
These are neutrality liquid products which have strong adhesive performances to various substrates.
PTA is an amorphous condition aqueous solution.
PTA does not have any photocatalytic performances under room temperature. A very fine titanium dioxide film can be made on a surface of a substrate. It can be used as a under coating for protecting organic substance surface. A very smooth TiO2 coated film can be made after it is heated with high temperature.The pencil hardness of the heated TiO2 film is more than 9H. PTA changes to anatase crystal after it is heated in more than 250 degrees centigrade. The heated PTA can have TiO2 photocatalytic performances.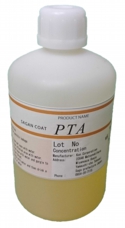 Inorganic anti permeative solution
Covering surface of substrate with inorganic polymer(=PTA-FJ),it will stop water getting into the substrate.
It will prevent water getting into concrete which is high permeative material and it can be used as undercoating.
Its layer is very thin,thus coating surface won't change and enable to make even layer.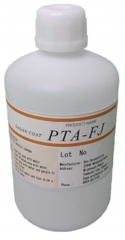 High TiO2 photocatalytic performance and suitable for various applications
TPX is a mixed solution of PTA (Peroxide titanium aqueous solution) and TO (Oxide titanium sol).
TPX can be applied to various materials as it is a neutrality solution. TPX has very high photocatalytic performances when it is coated and dried at a room temperature.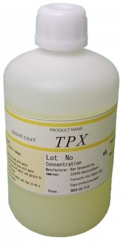 TPX-HP for glass coating has more hydrophilic activity
Combining with special water retention material and TPX,TPX-HP has both photocatalytic and more hydrophilic performance.
It is neutral solution so that it can be used for wide range of materials. Photocatalyst and adhesion effect will be expected with room temperate drying.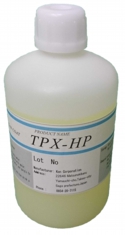 TPX-HP Clear for glass coating
TPX-HP Clear is developed for the application of the window glass coating. It can maintain the clearness of the window glass after it is coated. A very hard transparent film can be made after it is coated. The coated film performs a very good hydrophilicity on the glass surface. TPX-HP Clear is suitable for applying to the building materials that need to maintain good appearance.
A very high performance of hydrophilicity can be made after it is coated at room temperature.
The transparent coated film has a special substance which contains hydrophilic performance.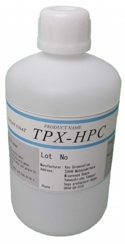 TPX-HL for internal wall
TPX-HL can respond to visible light wave. TPX also can respond to visible light wave.
TPX-HL is improved the performance of reacting to the visible light wave more than TPX. TPX-HL utilizes effectively UV light of fluorescent lamp to reduce bad odor. It can reduce floating bacteria at a waiting room in hospital where many people gather. This visible light type TiO2 solution can be used as one of the measures for reducing VOC problems in various situations.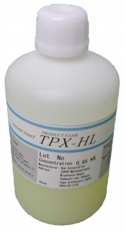 High active antivirus solution at dark conditions
Compound with metal ion, TPX-VB is verified high antivirus effect at either dark nor light conditions. It bring high antivirus effect and decompose toxin discharge from bacteria.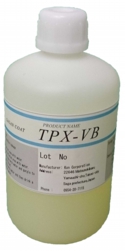 TPX-AD/Powerful absorbent type
TPX-AD has strong absorbent properties to decompose organiccompounds.